1% of New Zealand's population stutter, which includes children, teenagers and adults. In an interview with Colin Firth, the actor who played King George VI in 'The King's Speech', Norbert Lieckfeldt, Chief Executive of the British Stammering Association, explained how stuttering, "masks ability. It masks your capacity. Your intellect. It's a layer between you and the world through which everything gets filtered", leading to miss-understandings and miss-representations. And it can be different.
"Listen to me. Listen to me."
"Why should I waste my time listening to you?"
"Because I have a voice!"
"Yes you do."
This impassioned exchange between King George VI (Colin Firth) and Lionel Logne (Geoffrey Rush) happens in the highly acclaimed film, The King's Speech. It is a poignant moment. Transformative. A moment when Bertie, King George VI, claims his real, authentic voice. Claims his entitlement to have his voice heard, and speaks powerfully, with presence and impact. In that moment he becomes the leader of his nation as king.
Bertie reluctantly became king when his brother, Edward, abdicated because he wanted to marry Wallis Simpson. Having stuttered, or stammered, since childhood Bertie had grown to dread public speaking and yet, as king, was required to speak. The film describes how he engaged the help of an Australian born speech therapist, Lionel Logne. Logne's unorthodox and controversial methods enabled Bertie to come to an acceptance of his stutter and create from it. His fear of public speaking remained and he was able to move through it to speak with impact. He had the courage to speak in spite of his anxiety because it mattered enough to him to lead his people, particularly through World War II. Poignantly, on the wreath he laid at Bertie's funeral Winston Churchhill, then Prime Minister, wrote, 'For Valour'. Such was his recognition for the courage Bertie had shown during his reign and, in particular, overcoming his fear of public speaking.
Stuttering can be 'on the air' at different times. At the time of The King's Speech release, the BBC's Radio 4 began broadcasting a new series dramatising the book I, Claudius, by Robert Graves, which was famously performed by Derek Jacobi in its original TV dramatisation in 1976. It opens with a very famous stutter.
So often stutters are portrayed in the media for comic effect such as in Open All Hours or A Fish Called Wanda or as a dramatic device as in an episode of Cracker, for a psychopath. It is refreshing in The King's Speech to see stuttering portrayed naturally, as a part of someone's everyday experience.
There is a wonderful line in the film where Lionel says to George VI, "Forget everything else just say it to me." This is the essence of what creates connection between a speaker and their audience. Being with and connecting with, the audience one person at a time is what allows the relationship and the words to flow.
Treatment for Stuttering
Although different to Lionel Logne's methods some may say that the approach of Speaking Circles® is equally unorthodox. Speaking Circles® was founded in 1989 by Lee Glickstein. A Speaking Circle® is a small, supportive group where participants practise a gentle inside out approach to speaking in front of others. The group focuses on the foundation of effective communication – the quality of connection between the speaker and the audience. This relationship-based approach creates a supportive listening environment in which you learn to express yourself confidently and effectively through being fully present in your own unique style. An article on the British Stammering Association website explains how Speaking Circles® can be of value to individuals who stammer.
Whether you stammer, stutter, suffer stage fright, have a fear of public speaking or want to become a more effective communicator Speaking Circles® can support you. Like George VI and Claudius you are entitled to claim your voice, be heard and speak with ease, power and presence authentically.
Article posted 17 October 2012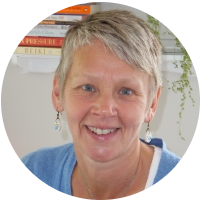 Sally Forman
Sally is a Certified Hakomi Therapist, Psychotherapist, Professional Certified Coach and Speaking Circles Facilitator, in private practice in Central Otago.