Here is one thing that could change your life significantly.
"Emotional intelligence" – What is it and why it's important for you to know about?
"Emotional Quotient" (EQ) is probably a phrase that your average person on the street may not be very familiar with. But simply defined, it is a way of measuring how much intelligence you have in dealing with your own emotional world and the emotionally driven behaviors of others. This term became widely known to the general public with the publication of Daniel Goleman's bestseller Emotional Intelligence – Why it can matter more than IQ.
Happiness and Emotional Intelligence
Your own happiness and wellbeing is directly connected to your own level of emotional intelligence. If you like most people are very interested in finding happiness, it is well worth considering your own current level of Emotional Intelligence and how you might develop it in your own life. Paying attention to this really can be a "game changer" for you personally and for improving the quality of your close relationships.
"Unbalanced Emotions", One of the problems in life
The pursuit of happiness and the avoidance of difficult feelings is a huge problem for many people today and is in fact a fulltime occupation for many of us; Drugs, alcohol, and sex often offer the hope of immediate relief from emotional pain.  The entertainment industry also is often geared to creating "feel good" feelings and endless distractions. Though I am, by no means against good feelings, I am up for more fun and laughter like most of us, however, learning how to work with difficult feelings is just as important as finding the good ones. This is the ground that emotional intelligence focuses on.
Growing Emotional Intelligence
There are several things that can help us in the task of developing Emotional Intelligence and here are a few pointers to aid you, if you are new to this subject.
A good starting point would be simply to recognize the subject itself as being important to you, and that there is value for you personally to grow and expand your own level of emotional intelligence.  Also, you will need a willingness to work with your own difficult feelings, whatever they may be, e.g. like sadness depression, loneliness or hurt.
Remember, it is important for you to recognize that to be skilled at anything in life, will take investment of your time and ongoing commitment to it. "No pain no gain" is as true an expression as there can be when it comes to this area of work. This is not going to be a quick fix!
You will need to start building your own "vocabulary" of emotion. This is like putting money in the bank each week, over time it will grow. Like learning any new language, to be able to say "yes and no" may be entertaining at first but will be very limiting to the quality of conversation you can have with people and ultimately frustrating in the end. Likewise if the only two emotions you can recognize is anger and passion that will be very limiting for you.
You will need to develop the ability to tune into, and catch your own emotional response or reactivity. Usually when individuals start out on the journey to grow emotional intelligence, a lot of work is done by reflection looking back on what went well or badly. This is because it takes a high level of skill to catch yourself in the heat of an emotion.
You will not only need to catch your own emotional reactivity in the moment you will also need to find the pause button and start to use it, so that you don't just go with the flow and repeat old destructive patterns of behavior. Sometimes noticing your own breathing, and making the choice to change to slower and deeper breathing can help in these situations.
At an advanced level of emotional intelligence you will have an increased awareness of the emotional world other people are experiencing and be interested in helping them through it, especially when they are struggling with what I call "prickly" feelings. This ability is often called empathy and is a fairly rare human trait, we need a lot more of it in the world.
Finally at a very advanced level of emotional intelligence you will have the ability to hold on to your own emotional reactivity when someone else is feeling emotionally overwhelmed, and not get reactive your self. To be there for them and to work through the issues to resolution where possible.
I understand that like all theories this may sound good but can look vey different in practice. In essence each situation will have its own challenges even to those who are skilled in this area. This is not a magic potion but a skill set that can contribute significantly to the positive direction your life takes and the level and frequency of happiness you experience in life.
Here's to wishing you a positive future and a life full of purpose and meaning.
References
Goleman, D (1996). Emotional Intelligence – Why it Can Matter More Than IQ. Bloomsbury Publishing PLC.
Article posted 21 September 2015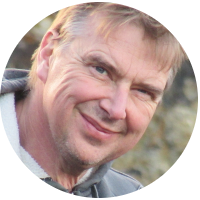 Charles is a Counsellor and Life Coach in Auckland who helps people develop their capacity to manage their emotional world.