The first moment I lived from 'I'm imperfect and I'm enough' was a relief; I relaxed, savouring my acceptance.
I fail at living from 'I'm imperfect and I'm enough' often, how fabulous, AND when I do live from 'I'm imperfect and I'm enough' I feel freer, more alive and more authentic. Change is a process and living from a new life-affirming way of being or doing takes practice. I will fail, that's part of being imperfect and part of the learning process. I'm learning to accept that too. And when I do, I am more able to integrate my learning and come back to staying in the change I am practicing.
And what I have come to know is that living from 'I'm imperfect and I'm enough' means saying no to pleasing, striving to be perfect and performing AND saying yes to being imperfect, vulnerable and setting boundaries. What are you saying yes and no to in your life?
Boundaries
How often do you say yes when you really mean no, and no when you really mean yes?
We can be frightened to set boundaries, for ourselves and with others. And we can tell ourselves that setting boundaries makes us unkind. Yet boundaries gift clarity, and safety, and much more. They also make us less resentful.
The writer and researcher Brene Brown wears a ring on one of her fingers. The ring can be rotated easily. Before responding with a yes or no when she is asked to do something she rotates her ring around her finger three times, using it as a structure, a device that reminds us to be in action, to allow her to create the space to check in with her true response. Then, and only then, does she say yes or no. In her video The Gifts of Imperfection she invites us to 'Choose discomfort over resentment'. Sharing our true response may feel uncomfortable and it makes us less resentful, judgemental and angry. After all, Brene tells us, 'I'm enough starts with… Enough!'
What structures support you in your practice of setting boundaries? 
Accountability
We can be good at finger-pointing and ranting in our personal, social and political worlds. We know how to blame, and shame, culturally. When we fail to set boundaries and hold accountability, we feel used. It can be less familiar to us to hold people accountable for their behaviour or choice, and to do so from compassion and acceptance.
Accountability is a skill. When we choose accountability we honour our word. We show up with integrity. What we say is what we mean and what we do. To hold ourselves or someone else accountable means separating the person from their behaviour or choice. We address what is being done, the behaviour or choice, not who the person is. Where would it serve you or an other to be held accountable? In service of what?
Embracing Imperfection
An authentic Navajo rug has a flaw intentionally woven into the design. It is believed that the spirit moves in and out of the rug through this imperfection. We can spend a lot of time, energy and money striving to be perfect. Then, and only then, we tell ourselves, will we be good enough, and worthy. When we are perfect, we believe, we will be accepted, and acceptable, loved and belong. The intention of this story is good… and the cost to us? When we choose perfection we set ourselves unattainable goals. We ignore who or what we really are, our potential and our limitations and we refuse to accept that we cannot control how people perceive us and that it is not possible to do or be everything that an other or we expect of ourselves.
Yet, when we have the courage to embrace our imperfections, and choose growth over perfection, we are rewarded with rich gifts. It is our imperfections that, like the flaw in a Navajo rug, connect us with our heart and soul and each other. Embracing and creating from our imperfections opens us to exploration, learning, deep connection and transformation.
What would it give you to embrace your imperfections?
Vulnerability
Recognising and understanding our vulnerabilities is an important part of allowing ourselves to be imperfect, and enough. We all have vulnerabilities.  Being aware of and acknowledging them is a source of strength. It allows us to move through shame, be at conscious choice, and create from our vulnerabilities. Vulnerability is not weakness, because vulnerability is about uncertainty, risk and emotional exposure. Vulnerability takes courage. Allowing ourselves to love, and be loved, beginning a new business, holding someone accountable all include vulnerability and take courage.
When is vulnerability fun?
Performing and Inner Critic
In his book Be Heard Now Lee Glickstein creates a distinction between our 'Outer Speaker' and 'Inner Speaker'. When we hide our true selves, put on a show and perform to our audience our Outer Speaker is in control. When we relax into our natural presence and are genuinely and authentically ourselves, we speak from our 'Inner Speaker'. Our Inner Speaker is in alignment, inside out and outside in and draws others to us. We are drawn to people who are real.
We each have an Inner Critic, the part of us that sits on our shoulder and jabbers away at us, critically. 'You're not as good as them.' 'You did that wrong, you idiot!' Conductor Benjamin Zander in Benjamin Zander – Work (How to give an A) talks about the inner critic in the context of music and education and how students compare themselves to each other. In this talk he describes what he means by Giving Yourself an A.
You honor your potential to learn and grow by giving yourself an A in a situation before you have gone through the experience. The only requirement for this achievement is that a week or two after you've given yourself the A, you sit down and write a postdated letter in which you describe what you did to earn it…
How often do you say what you think someone else wants to hear, and be who you think you are supposed to be?
All of Me
John Legend is a singer-songwriter and actor. In All of Me he sings about what it means to give and be given all of who we are to love. He sings…
'Cause all of me
Loves all of you…
All your perfect imperfections…'
In this short film by Nic Askew The Balls to Stand Naked Dominic Miller, guitarist and writing partner to Sting asks, How naked are you prepared to be?
Quotes by Brene Brown
"The dark does not destroy the light; it defines it. It's our fear of the dark that casts our joy into the shadows."

"Understanding the difference between healthy striving and perfectionism is critical to laying down the shield and picking up your life. Research shows that perfectionism hampers success. In fact, it's often the path to depression, anxiety, addiction, and life paralysis."

"Healthy striving is self-focused: "How can I improve", Perfectionism is other-focused: "What will they think".

"Staying vulnerable is a risk we have to take if we want to experience connection."

References
Brene Brown: The Gifts of Imperfection
Brene Brown. 2010: Let Go of Who You Think You're Supposed To Be and Embrace Who You Are
Lee Glickstein. 1998: Be Heard Now
John Legend: All of Me
Benjamin Zander: Benjamin Zander – Work (How to give an A)
Nic Askew: The Balls to Stand Naked
Article posted 7 June 2016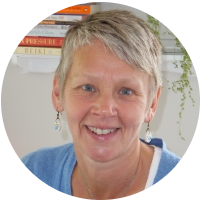 Sally Forman
Sally is a Certified Hakomi Therapist, Psychotherapist, Professional Certified Coach and Speaking Circles Facilitator, in private practice in Central Otago.