What's Happened to Baby? Is an inviting, sensitively written and colourfully illustrated picture book for children 3-7 years old, who have had a baby die in their family/whanau.
It has been designed with the whole family/whanau in mind, and provides a helpful opportunity for parents and caregivers to talk with a young child about this difficult loss. It also features useful noted and information for adults as the back, to assist them in supporting their bereaved child. The text has been carefully designed to fit a wide range of bereavement situations, including miscarriage, stillbirth, cot death, and accidental or natural deaths of an infant or toddler. In this way it ahs been developed as a book that will be able to serve and support a large number of bereaved New Zealand families. The story is simple, giving young readers clear understanding and reassuring, comforting concepts to carry with them. It also offers plenty of opportunities for adults to talk with their child/children about their own beliefs and any personal thoughts they would like to share. The illustrations, by Ali Teo, and the text combine to very effectively reflect the multi cultural nature of the New Zealand community today.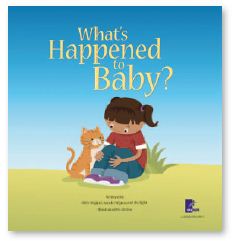 Anne Horrill writes:
This twelve page, picture and story book, for 3-7 year olds, is elegant in its simplicity and depth, on the topic of grieving for the death of a baby.
The book is purpose-built to help parents and caregivers talk to a young child about the death of a baby in their whanau and to my mind it would seem to fulfill its purpose well.
The words have simplicity and pertinence. The pictures have simplicity and a wealth of discussion material.
The notes for parents, at the back of the book, for reading before sharing this book with a child, are particularly relevant and helpful, bearing in mind that the subject matter in the story is sensitive, and is worthy of handling with care.
I see this book being a valuable resource for use with children who are grieving. Even without reading it to children, it would be a very valuable read for the many parents, adults, caregivers who are faced with the challenging task of supporting young children in grief, even whilst dealing with grief of their own.
---
Article posted 2 October 2007
What's Happened to Baby? was written by the team members at SIDS SANDS & Skylight and is available from Skylight online at www.skylight.org.nz.
Anne Horrill is a counsellor in private practice in Lower Hutt.